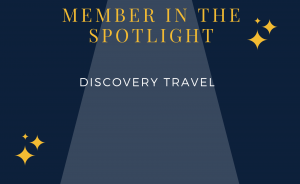 Congratulations to Discovery Travel for being our member spotlight for the month.
Our clients (YOU) come to us, and return to us, because you trust us to give you the best value. You count on us to be your partner and to guide you in making informed and educated decisions concerning your travel plans. And, overall, help you travel better.
Our passion is to help bring dreams into realizations filled with memories and smiles.
Our agents hold specialties and certifications in Group travel, Destination weddings and honeymoons, luxury travel, all things Disney, river and ocean cruising, all-inclusive resorts and travel within the U.S. and all over the world.