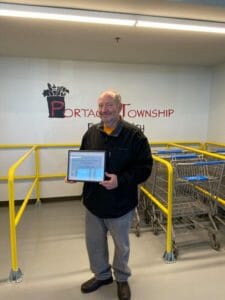 Congratulations to our spotlight member of the month: Portage Township Trustee
The Portage Township Trustee's Office is committed to elevating the quality of life in Portage Township serving Portage Township residents with temporary and emergency assistance for food, clothing, shelter and health and safety needs while assisting clients in reaching financial independence.
Portage Township residents who meet township guidelines may apply for financial assistance with their rent, utility bills, as well as, referrals to other agencies for food and clothing.  Any Portage Township resident in need of assistance is encouraged to call the Trustee's Office at 219.762.1623
We thank you for the countless hours you have put in helping serve the community of Portage.