Member of the Week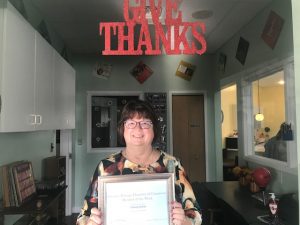 Congratulations to our Member of the Week, 
Karen Ruiz
 and 
Caring Hearts Adult Day Services
! In 2015 Karen Ruiz had a dream after realizing a need in the community for an Adult Day Service Center. It was her goal for seniors to have a safe place to interact and socialize with others through planned activities. Her Father and Mother both needed a 24/7 caregiver which was her family. Her Father was a double amputee and her Mother was diagnosed with Alzheimer's in 2001. They wer
e able to keep her Father home till he passed away in 1999 but her Mother's illness progressed to the point that their care-giving was not enough. They were saddened to have to place her in a long-term care facility where she passed away in 2006. Dealing with her parents illnesses, she realized there was no support to help the caregivers, which are usually family members. There had to be a way to keep your loved one home, and also give caregivers a much needed break. This is where Adult Day Care Services can be helpful. Your loved one receives quality care and the caregiver can have a time for themselves to do all the necessary day to day activities. The Caring Hearts Adult Day Care Services is a great way to keep your loved one home but also give the caregiver much needed time off and support. Call them at (219) 841-5787.