Member of the Week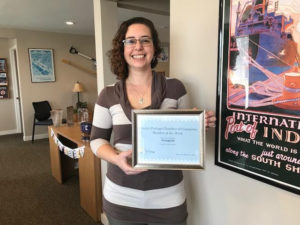 The Portage Chamber of Commerce Member of the Week for Week 4/2 - 4/6 is PortageLife..  PortageLife along with ValpoLife, LaPorteCountyLife, and NWIndianaLife make up ideas in Motion Media's exclusively positive online media company.  The networks were founded back in 2009 with the premise that good news works and given the choice, the community would rather consume hyper-local, positive news stories than the constant negativity seen in other forms of transitional media.
The sites provide a 100% positive space for community members, businesses, nonprofits, schools and churches to share the many great things happening throughout the region each day.  The idea was embraced and the "Good News Army" began to grow rapidly!
This online community is large enough to support major advertising, but small enough to remain local!  Advertising partners of LIFE receive unlimited advertorial space on the sites, an editorial team to write and create content on their behalf, and then active promotion of their brand through articles, photos, and social media inclusion.
Whether you're looking to raise more money for your organization, to drive more traffic and leads for your business, or to simply support all that is good within the community, Director of Business Development, Candace Arvin, can help!  A Media Kit is available online and Candace is available for questions by calling 219-707-5023 or by emailing Candace@GreatNews.Life.