Member of the Week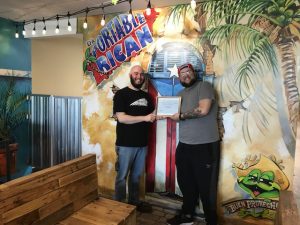 Our Member of the Week this week is Da Portable Rican.  In 2010, they went to their parents with the idea of starting their own business.  With mom and dad's support, they opened their first food and hot dog on the beach.
At the end of the year, they sold that truck to buy a 24' trailer and with the help of their dad, they built it into a commercial kitchen on wheels.  This food trailer became known as Da Portable Rican.
Some family members were asked to come aboard and help serve Puerto Rican cuisine to the people of NW Indiana using Grandma's recipes.  Their trailer can now be found at both the Porter and Lake County fairs in Indiana as well as other events in the area.
They have now accomplished another goal in opening their first restaurant to represent what they love most about their culture.  The restaurant has the feel of a street festival in San Juan, Puerto Rico.  Since the food trucks are out and about for the summer, the restaurant's new hours are Mon.-Thurs. Closed - Friday & Saturday 11am-9pm and Sunday 11am-7pm.  Restaurant is available to parties of 25 or more Monday - Thursday.  Contact them at DPRcatering@gmail.com or daportablerican@yahoo.com.